Latest Publications from Regina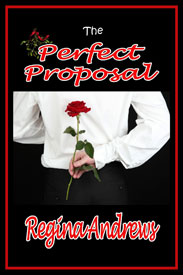 The Perfect Proposal
Never in her wildest dreams did Lindsay Richardson imagine her life would shift from that of a quiet elementary school teacher to being the assistant to Dean Singleton Copley, one of the nation's most dynamic business leaders. Although Lindsay desperately needs this new job, she's mourning the loss of her father and facing the unexpected twists her life has taken. This time in her life is a test of her faith, her courage and her strength. Is the job the best for her family? Deciphering the path God wants her to take is the greater challenge, yet she wonders if Dean is destined to become more than an employer to her.
About

Award-winning author Regina Andrews, a resident of Providence, RI, grew up in the nearby seaside village of Barrington. After graduating from Providence College she attended the University of Delaware, eventually earning her master's Degree in American Civilization from Brown University. The author of numerous works, Regina is currently working on the Sterling Lakes Series. In November 2010, Destiny's Designs won the AKW Books 2010 eBook of the Year award for Fiction. Her hobbies include travel, museums, theater, reading, music singing and gardening.
Regina is involved in numerous community organizations, and is a radio host for In-Sight, an association for the visually impaired. She and her husband share their home with a semi-feral cat named Queen Tiana, whom they rescued from a shelter.